The powerful functionalities of artificial intelligence have brought us to an important milestone in human history. Take a look around, and you will find multiple use cases of AI, starting from search engine recommendations to AI chatbots. As a matter of fact, Forbes Advisor states that around 97% of business owners believe that AI would have a positive impact on one aspect of their business. 
You can become certified AI professional and explore promising career paths in AI, such as AI researcher, data scientist, or machine learning developer. However, it is also important to identify the ideal route for enhancing your preparations and achieving crucial career benefits. The following post offers you an outline of the reasons to pursue a career in AI and the available career paths. In addition, you can also learn about the important skills required for AI jobs and the best practices for training.
Want to develop the skill in ChatGPT to familiarize yourself with the AI language model? Enroll Now in ChatGPT Fundamentals Course!
Definition of Artificial Intelligence, Machine Learning, and Deep Learning
Remember that you would come across the terms machine learning and deep learning quite frequently in the domain of AI. The first step in the journey of becoming a certified AI professional starts with a review of AI fundamentals. Artificial intelligence is the branch of computer science that focuses on development of systems that can focus on creating systems for performing tasks that would require human intelligence. Machine learning and deep learning are the two important subdomains of artificial intelligence. 
Machine learning is an important subdomain in AI, which focuses on development of algorithms that have the ability to learn without explicit programming. Deep learning is a subdomain of machine learning, which works on the concept of neural networks. The applications of deep learning help in working with unstructured data like text, videos, and images. 
Take your first step towards learning about artificial intelligence through AI Flashcards
Reasons to Pursue a Career in AI
The next important information you need before pursuing training courses and certifications in artificial intelligence is the outline of reasons for the same. Prior to the selection of an AI certification, you must think about the reasons for investing efforts and time in learning artificial intelligence. 
Interestingly, you can find the answer to such doubts by emphasizing the explosive growth of data and the need to draw meaningful insights from data. Artificial intelligence can help users in extracting the true potential of data alongside delivering crucial value advantages. Here are the top reasons why you should pursue a career in AI.
One of the most prominent reasons to choose an AI certification course right now is the opportunity to capitalize on the growth of AI. Artificial intelligence has been visualized as a technology of the future. However, the number of AI jobs has been growing at an exponential rate, and the pace of AI adoption has increased by huge margins in recent times. The Future of Jobs report by the World Economic Forum states that AI and machine learning jobs would be one of the fastest growing jobs in the course of next five years.
Tech professionals can capitalize on the growth of AI to land high-paying jobs. The explosive growth in demand for AI skills has led to formidable growth in compensation for AI professionals. You can become AI expert and earn an average annual salary ranging up to $128,750, along with bonuses and facility of profit sharing. On top of it, machine learning engineers could earn almost $133,000 for entry-level jobs in AI. The remuneration for AI professionals showcases the value of AI skills in the modern technology labor markets. 
AI Encourages Skill Development
The prospects for fast growth and better salaries are only one side of the opportunities for jobs in artificial intelligence. You can rely on AI for intellectual stimulation that challenges you in different ways. First of all, AI course and certification courses give you the confidence to create algorithms that can solve complicated problems. 
On the other hand, AI professionals have to work on creative applications of AI and ML for real-world use cases. The job of AI professionals requires continuous learning, adaptability, and innovation. On top of it, the continuous evolution in the field of AI provides new topics for learning and new problems to solve.
Want to learn about generative Artificial Intelligence? Check here for a detailed guide on Everything You Need To Know About Generative AI now!
Job Roles for Certified AI Professionals
The career path of an AI professional is one of the first factors which encourage the popularity of AI job roles. You can become a Certified AI expert and explore some of the most noticeable jobs, such as the following. 
AI engineers take over the responsibility for development, programming, and training of complex AI models. In addition, AI engineers also need expertise in deep learning neural networks and machine learning algorithms. 
Machine Learning Engineer
Machine Learning engineers work on development and deployment of machine learning models. ML engineers select the right algorithm and also design the ideal infrastructure for supporting the machine learning models. 
You can also become Certified AI Professional and explore job opportunities as an AI research scientist. Research scientists have to come up with new ways to applications of machine learning to solve real-world issues. The responsibilities of research scientists could involve development of new algorithms alongside working on ML applications such as Computer Vision and Natural Language Processing. 
Another promising job role for pursuing a career in AI refers to the data scientist job. Data scientists work on collection, refining, and analysis of data. Subsequently, data scientists can use the data to create predictive models to make data-driven decisions. 
Curious about what are the impacts of AI on DeFi Space? Check here for a detailed guide on the Potential Impact Of AI On The DeFi Space now!
Skills Required for a Career in Artificial Intelligence
The first requirement for a career in artificial intelligence points to an educational qualification in computer science. Machine learning and AI jobs involve learning about problem-solving and analytical skills. Here are the important skills you would need for careers in artificial intelligence.
Please include attribution to 101blockchains.com with this graphic.   
AI professionals would need statistical skills and an in-depth understanding of probability to understand complex algorithms. Most of the modern AI models, in their fundamental forms, would rely on determining patterns in massive volumes of information. The skill requirements for a certified AI professional focus on familiarity with common AI models. In addition, the statistical principles also focus on complex statistical proofs alongside theorems, which demand in-depth knowledge of the subject.
The outline of skills required for becoming certified AI experts would also emphasize numeracy skills. Other than statistics, the field of AI also depends on different mathematical concepts for developing AI models. For example, probability is one of the noticeable mathematical concepts you would come across in AI use cases. In addition, you can become AI expert with the ability to use problem-solving skills and analytical skills to create AI models. The numeracy skills of aspiring AI professionals can help them gain a competitive edge over other candidates.
The journey of an individual to become a professionally certified AI expert also requires attention to programming skills. While numeracy and statistical skills are significant skill requirements for AI experts, another part of the skill requirements focuses on programming languages. You must familiarize yourself with languages such as Python, R, Java, and C++.
Artificial intelligence engineers use different programming languages for specific use cases. For example, C++ helps in increasing the speed of coding process, while Python improves the understanding of complex algorithms. Similarly, Java helps in implementation of mappers alongside helping professionals with an understanding of stats. 
The list of skills required for becoming an AI professional also includes expertise in distributed computing. Majority of AI jobs demand the necessity of addressing large and complex datasets. It is important to notice the difficulty in processing the massive repositories of data with one machine. 
Therefore, the datasets must be distributed throughout a cluster of machines, thereby implying the necessity of distributed computing. If you are preparing for an AI certification, then you must work on developing your skills in applications like MongoDB. Distributed computing expertise in MongoDB could help you create, operate and maintain cloud environments.
Want to learn about the ChatGPT Cheat Sheet? Check here for a detailed guide on The Ultimate ChatGPT Cheat Sheet now!
How Can You Become a Certified Artificial Intelligence Expert?
The outline of career development opportunities in AI offers a clear impression of the reasons to build your career as an AI professional. Most of the candidates would look for an AI course and certification that could guarantee the best AI jobs. On the contrary, you must follow a strategic plan for building your professional career in artificial intelligence. Here are some of the important pointers you must follow to become an AI expert.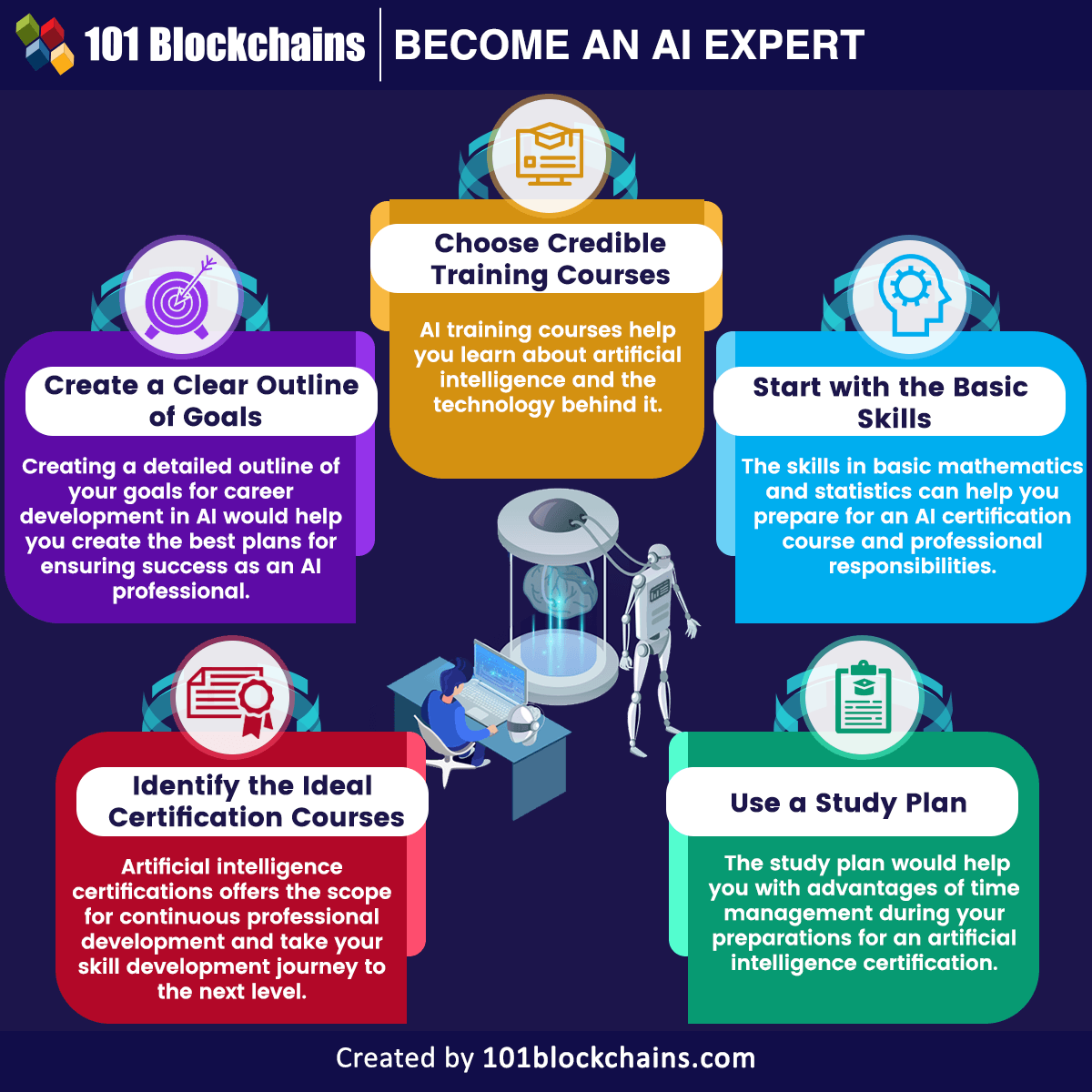 Please include attribution to 101blockchains.com with this graphic.   

Create a Clear Outline of Goals
The first thing you need to become certified AI professional is an outline of your goals. Why do you want to pursue a career in artificial intelligence? What are your important AI skills? Which job roles in AI can offer lucrative career benefits? The answers to these questions can help you create a detailed outline of your goals for career development in AI. In addition, you must establish a long-term vision of your expectations from a career in artificial intelligence. The clarity regarding your career objectives would help you create the best plans for ensuring success as an AI professional.
Start with the Basic Skills
Candidates interested in AI jobs could start their journey by learning basic skills such as numeracy, statistics, and programming. The skills in basic mathematics and statistics can help you prepare for an AI certification course and professional responsibilities. You should invest time in learning about the basic mathematical concepts required for AI and ML jobs, such as probability, linear algebra, and calculus. On top of it, you should also work on your skills in linear transformation and matrices. Most important of all, you must showcase the commitment to learn and build your foundations before specializing in artificial intelligence. 
Choose Credible Training Courses
The path to becoming an AI professional would also focus on a selection of credible training courses. You need training courses on AI fundamentals that help you learn about artificial intelligence and the technology behind it. In addition, you must use AI training courses to familiarize yourself with the essential skills required for AI professionals. The advantage of professional training courses is evident in the opportunity to learn skills that would help professionals in achieving their career objectives.
Identify the Ideal Certification Courses
While training courses give you the confidence required to become AI expert, certifications take your skill development journey to the next level. Most important of all, you need to be careful in choosing an artificial intelligence certification training course. You must choose a certification that helps you prove your skills for using AI in business transformation. At the same time, it is important to choose a certification that offers the scope for continuous professional development. 
The most effective ingredient to help you qualify for an artificial intelligence certification program would point to a study plan. You must create a study plan according to the learning objectives and topics covered in a certification course for AI professionals. You can become a certified AI expert only by showcasing commitment and accountability to your preparations. 
The study plan would also help you with the advantages of time management during your preparations for an artificial intelligence certification. Furthermore, you can also use the study plan for allocating priorities to important topics alongside learning about your weaknesses.
Want to learn how AI and Fintech disrupting finance careers? Join Premium Plan and get free access to How AI And Fintech Are Disrupting Finance Careers Webinar
Conclusion
The benefits of a career in AI provide multiple reasons to choose AI course and certification programs for better learning. You should rely on artificial intelligence training courses to build your basic skills for AI job roles. In addition, candidates should also understand the important skills required for becoming an AI professional. 
The ideal strategy for developing your career as an AI professional starts with a clear outline of your goals behind a career in artificial intelligence. As the adoption of AI continues growing across different industries, it is only a matter of time before AI experts are in high demand. You can capitalize on the numerous career opportunities in AI with the help of professional training courses and certifications in AI right now.