Tesla produced 479,700 electric vehicles in the second quarter of 2023 and delivered 466,140, smashing both quarterly production and sales records.
For the first half of the year Tesla has produced 920,508 EVs meaning the company is well placed to achieve its target of producing 2 million in 2023.
As expected, the Model 3 and Model Y made up 96% of Tesla's production, with the Model S and X flagship cars accounting for just 4%.
Tesla's Q2 sales were up 10% quarter-on-quarter from Q1's previous record of 422,875. Year-on-year Q2 sales were up a staggering 83% over Q2 2022, as shown in the graph below from Roland Pircher.
Looking at production in Q2, Tesla produced 479,700 EVs, up 13% on Q1's figure of 440,808. If Tesla can maintain that level of quarter-on-quarter production growth for the rest of this year, it will hit around 542,000 for Q3 and 612,500 for Q4.
This will put total 2023 production numbers at around 2.1 million, exceeding Tesla's stated goal of 1.8 to 2 million.
If Tesla does manage to produce 2.1 million EVs for 2023, it will represent an annualised growth rate of around 60%, which is also above Tesla's long-term target of 50% annualised production growth.
To get a sense of Tesla's exponential sales growth, James Stephenson graphed Q2 trailing 12-month global deliveries over the past 10 years.
Based the Q2 trailing 12-month figures, Tesla sales grew 47% in 2022-23, 58% in 2021-22 and 82% in 2020-21.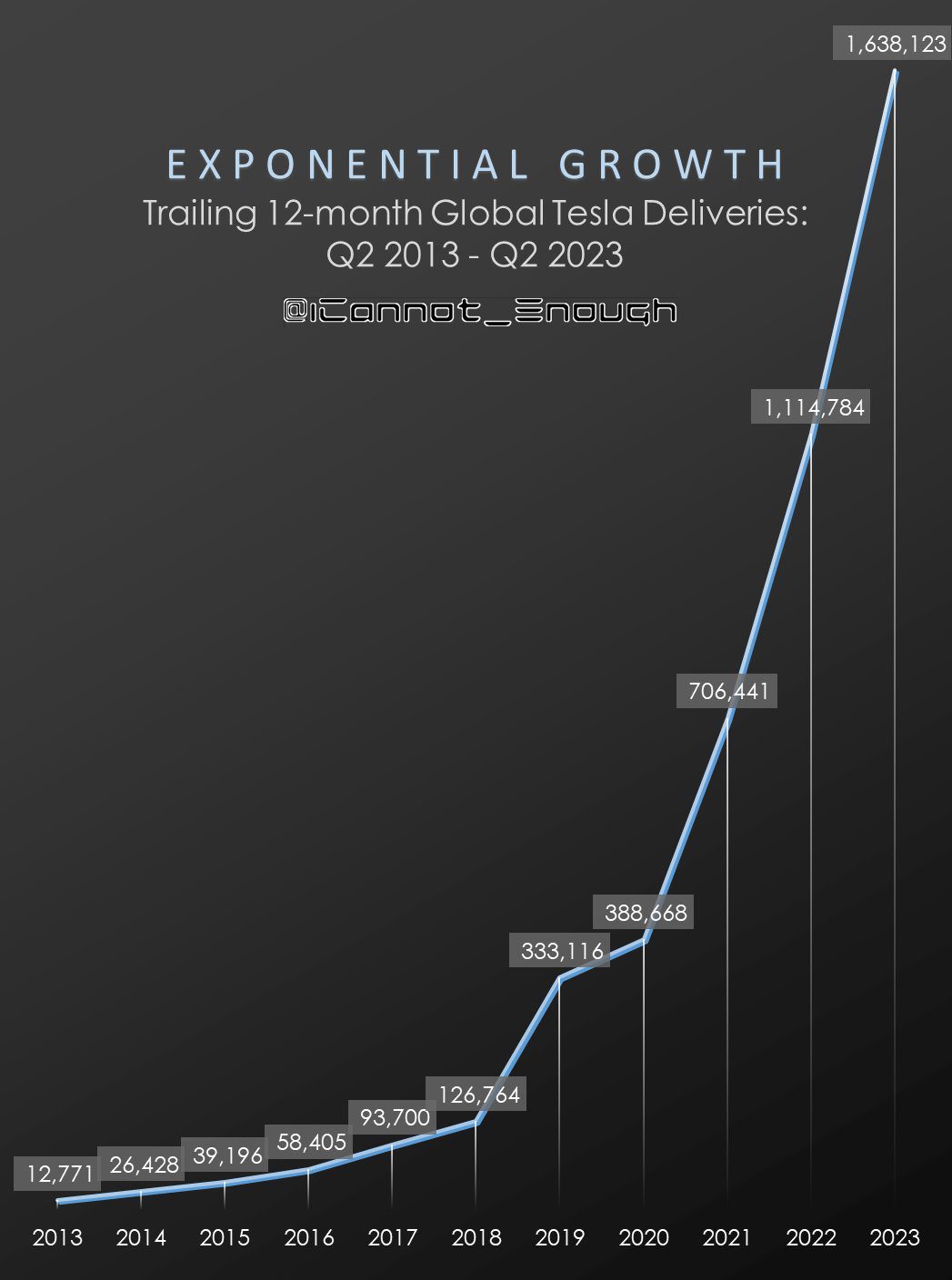 Daniel Bleakley is a clean technology researcher and advocate with a background in engineering and business. He has a strong interest in electric vehicles, renewable energy, manufacturing and public policy.