Web3 is a challenging highlight in the next frontier of technological revolution, with the scope for introducing radical transformative impact. Imagine the ways in which Web3 can change the ways of accessing the internet and using your personal information. Discussions around web3 jobs have been gaining significant levels of attention with the increasing adoption of NFTs and cryptocurrencies. 
As a matter of fact, a report by popular job portal, Indeed.com has revealed that job listings related to blockchain, NFTs and cryptocurrency have increased by almost 804% between 2020 and 2022. One of the first reasons to pursue jobs in web3 space is the opportunity to participate in a revolutionary market trend. On top of it, big companies are gradually entering the web3 space, which can provide more jobs in the domain of web3.
Companies such as Meta, Microsoft, Pizza Hut, Coca-Cola, Adidas and many other brands have been experimenting with possibilities for investing in Web3 talent. However, the skill gap in Web3 is massive, and companies have to face challenges in recruiting competent Web3 professionals. Let us find out how you can make the most of opportunities for landing a job in Web3. 
Reasons to Pursue Web 3.0 Jobs
The doubts regarding your career in Web3 can hold you back from learning about its value advantages. Web3 is a fundamental change in the user experience through effective use of decentralization by leveraging the functionalities of blockchain. Interestingly, web3 is not a single term that explains technological advancement. On the contrary, web3 encompasses many applications, including blockchain-based dApps, smart contracts, DeFi solutions, NFTs and the metaverse. Therefore, you have many choices to secure your career for the future by preparing for web 3.0 jobs. 
The web3 industry might become worth $67.4 billion by 2026, with many web3 startups successfully completing multi-million dollar investment rounds. At the same time, active participation of big tech giants, such as Meta, has also emerged as a valuable factor in encouraging demand for web 3.0 jobs. You can also find answers to your doubts about jobs in Web3 by identifying the average job growth in US. 
With an average job growth rate of 7.7%, the US market can present almost 51 times more opportunities for job growth in Web3-related roles. One of the popular crypto and web3 job portals, Crypto Careers, has stated that it received more than 60,000 applications for web 3.0 jobs in 2023. The portal also announced that more than 450 companies posted job listings for over 9000 jobs related to Web3.
Learn the fundamentals of Web 3.0 with the Web 3.0 flashcards
Job Opportunities in Web3
The clear impression regarding implications of career opportunities in web3, blockchain and cryptocurrencies provides proof for favorable rewards in web3 careers. Web3 is closely related to blockchain technology, thereby helping you try different technical and non-technical roles. The answers to "How do I start a career on Web3?" would start with a clear impression of the job opportunities you can find on Web3. As the demand for new web3 skills continues to gain momentum alongside the increasing use cases of web3, you can find multiple job roles in web3. Here are some of the popular job roles you can pursue in the field of Web3.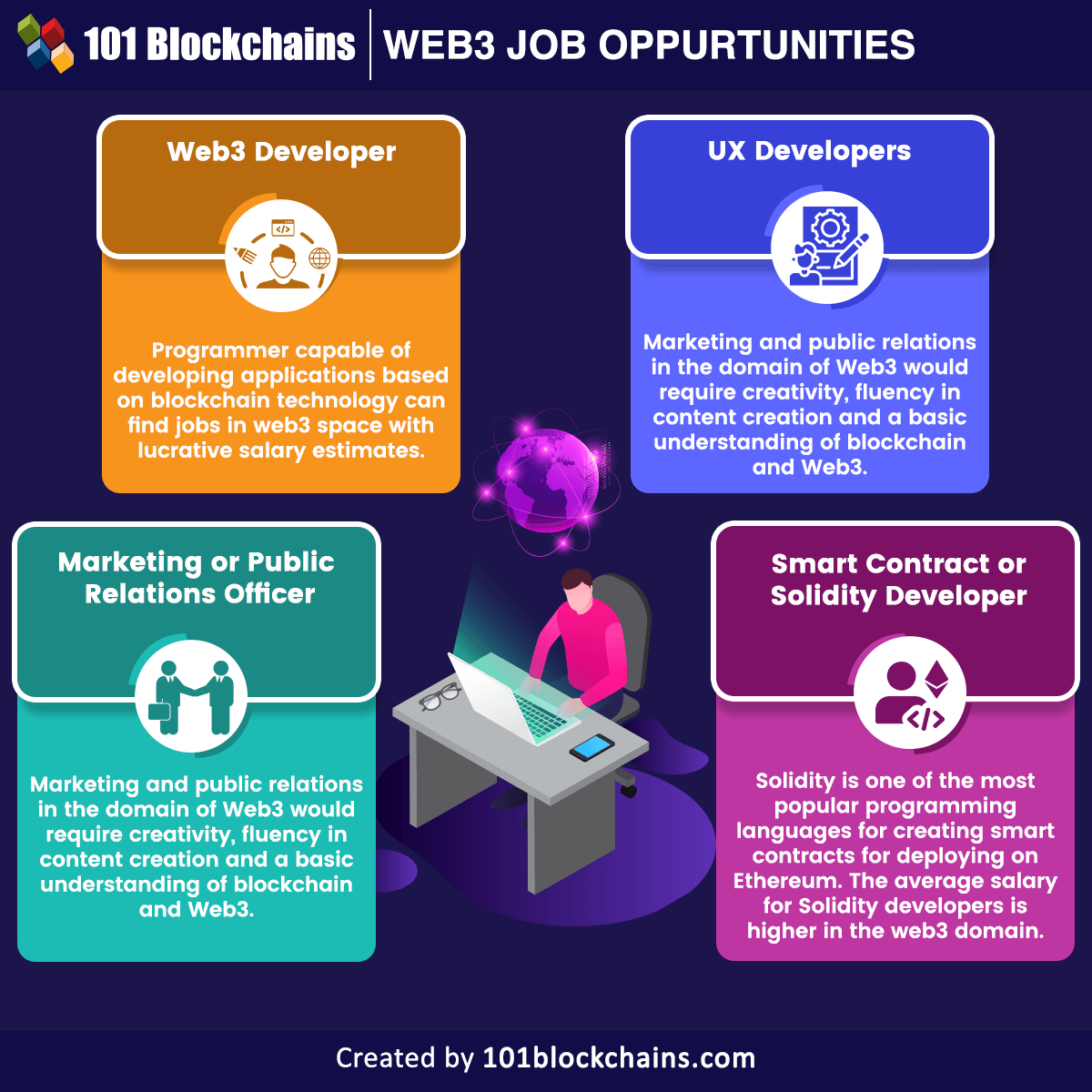 Please include attribution to 101blockchains.com with this graphic.   

The most common tech role which dominates the Web3 labor market is that of a Web3 developer. Any programmer capable of developing applications based on blockchain technology can find jobs in web3 space with lucrative salary estimates. As a matter of fact, the role of a Web3 developer and blockchain developer overlap in different areas. The average annual salary for Web3 developers can range up to $140,000, thereby offering a good reason to pursue the role. 
Curious to develop an in-depth understanding of web3 application development? Enroll Now in Web3 Application Development Course! 
Smart Contract or Solidity Developer
Smart contracts serve as the lifeblood of Web3 as they can facilitate development of different Web3 apps. If you are wondering how to get job in Web3, you should learn about smart contract development. The power of decentralization and automation with smart contracts can help in creating a new generation of Web3 apps. 
Most important of all, the use cases of smart contracts in DeFi suggest that DeFi companies would seek smart contract developers. Solidity is one of the most popular programming languages for creating smart contracts for deploying on Ethereum. The average salary for Solidity developers is higher in the web3 domain, owing to the special skillset. 
Curious to understand the complete smart contract development lifecycle? Enroll now in Smart Contracts Development Course Now!
The user is the focal element in Web3 and most of the objectives in Web3 focus on improving user experience. Whether it is the metaverse or an NFT app, web3 applications need to be attractive to users. Therefore, you can also pursue a career in Web3 as a UX developer, supporting Web3 apps to gain momentum in adoption. An effective understanding of blockchain fundamentals and the key elements which drive user behaviors helps in building your career as a UX developer in Web3.
Marketing or Public Relations Officer
The world of Web3 also opens up job prospects in non-technical roles such as marketing or public relations executives. New web3 solutions such as dApps, metaverse platforms and NFT collections are digital products that you have to sell to the audience. On top of it, web3 jobs in public relations would revolve around one of the key objectives of Web3, i.e., community development. Marketing and public relations in the domain of Web3 would require creativity, fluency in content creation and a basic understanding of blockchain and Web3.
Skills Required for Finding a Job in Web3 Space
The most effective option for helping you land jobs in Web3 points to awareness regarding the skills you need to become a Web3 professional. Depending on the job role, you would need specific skills such as design, development, social media management, content creation and sales and marketing. If you are interested in technical web3 job roles such as web3 developer or infrastructure engineer, then you need fluency in programming skills. 
The common addition among responses for "How do I start a career on Web3?" includes references to fluency in JavaScript and Solidity. JavaScript is an essential language for creating interactive applications and websites. It is one of the most renowned programming languages, thereby ensuring an easier facility for learning JavaScript. On top of it, you must familiarize yourself with the best practices of using Solidity to create smart contract codes. Web3 professionals must also learn about web3.js and ethers.js alongside the effective ways for using API integrations.
How Can You Find Jobs in Web3 Space?
The overview of important reasons to learn web3 and variety of job roles in web3 space, alongside the skills required for web3 job roles, help you understand the basics of web3 career development. How do you find your desired job in Web3? Here are some of the notable pointers recommended by experts for finding a job in Web3.
Develop the Required Skills
The foremost strategy for landing a lucrative career in Web3 focuses on skill development. Depending on the job role you are pursuing, you need to look for effective training resources and skill paths on Web3 and blockchain technology. The important areas of expertise required for Web3 jobs include blockchain fundamentals, NFTs, Ethereum, DeFi, dApp development and metaverse technology. 
Trustworthy blockchain and web3 training course providers such as 101 Blockchains can help you develop web3 skills. In addition, you can also leverage their certifications to prove your all-round expertise in web3 technologies. Interestingly, you can find the first-of-its-kind Web3 certification on 101 Blockchains with the Certified Web3 Professional or CW3P certification. 
The next step after skill development in the journey of building your Web3 career would involve setting up your unique identity as a Web3 expert. You can find out how to get job in Web3 by marketing your skills through a blog or social media posts. Start jotting down your experiences of learning about Web3 and blockchain on your blog and share them with your social media circle. Gradually, you can build a considerable amount of learning resources that can help others. As you learn more about Web3, your own insights can serve helpful learning outcomes for other aspiring learners or attract the attention of potential employers. 
Want to build your fluency in advanced technologies and develop decentralized solutions for the emerging web3 ecosystem as a web3 expert. Enroll Now in Web Expert Career Path
The most obvious requirement for finding a job in Web3 would refer to professional networking. In the age of social media, you can find multiple opportunities for expanding your social network. Your Twitter feed can serve as an effective medium for learning from experts and Web3 professionals working on new projects. In addition, LinkedIn and Web3 job boards can also offer effective platforms for seeking out potential employers. 
You can land desired jobs in Web3 space only if you have a good resume. The resume of Web3 professionals must reflect their skills and experience in Web3 projects. Furthermore, you should also pay attention to removing irrelevant skills and experience from your professional portfolio. The tiny details in your professional portfolio would help you score a distinct advantage over other candidates for Web 3.0 jobs.
Crypto Communities, DAOs and Practical Experience
Candidates interested in Web3 job roles must also work on developing an in-depth understanding of Web3 communities. Practical involvement in Web3 demands professionals to have experience in what it feels like to be in the Web3 space. Do you have cryptocurrencies or an NFT? Have you used a decentralized finance app? 
You can prepare for Web3 jobs by learning how different solutions in Web3 work. Most important of all, candidates aspiring for web3 careers must seek opportunities for working on new web3 projects. For example, you can try to participate in a DAO and learn about decentralized governance and how the community works. 
Excited to develop fluent knowledge of the DAO ecosystem? Enroll Now in DAO Fundamentals Course!
The final recommendation for building your career in the web 3.0 space focuses on staying updated and active. You must respond to job alerts immediately on different platforms. Majority of Web3 projects are active on Twitter and post their job requirements on the site. In addition, LinkedIn is also an effective platform for staying updated with latest job postings in Web3. On top of it, candidates for web3 jobs should also adapt to the new changes in the web3 market by staying informed about latest news and events in the world of web3.
Conclusion 
The challenging journey to becoming a Web3 professional can become easier with proper planning and strategic guidance. Web3 is a new concept, and many big companies have shown interest in Web3 projects. As the demand for a career in Web3 grows stronger every day, aspiring professionals need proper guides for achieving their career objectives. 
You can land your desired Web3 job by choosing effective training resources and certifications for proving your skills. In addition, candidates for Web3 job roles must also work on developing other essential skills for career growth. Find more information about training courses and certifications on Web3 and blockchain technology with 101 Blockchains right now.      
*Disclaimer: The article should not be taken as, and is not intended to provide any investment advice. Claims made in this article do not constitute investment advice and should not be taken as such. 101 Blockchains shall not be responsible for any loss sustained by any person who relies on this article. Do your own research!