The virtual worlds in science-fiction movies and novels have jumped out of the screens and pages into our real lives. Metaverse is one of the hottest trends in technology right now and has the potential to transform online experiences. By 2026, around 30% of companies will have their products and services tailored for the metaverse. The need to
hire metaverse developers
has been gaining momentum with the transition from conventional digital businesses to metaverse businesses. 
Many notable tech companies such as Microsoft, Google, Amazon, Epic Games, and many others have hired developers to enhance their solutions for the metaverse. Businesses can leverage the metaverse to help the target audience in the visualization of real-life models of the latest products, concept designs, and other offerings.
The metaverse opens new avenues for businesses to establish stronger relationships with their target audience and build trust. Therefore, a qualified metaverse developer can serve as a vital asset for creating metaverse solutions that would draw in customers. Any business seeking opportunities to adopt the metaverse would have to hire proficient metaverse professionals to translate their vision into reality. The following post helps you learn about the important factors required for hiring metaverse developers. 
Aspiring to Become a Certified Metaverse Expert? Enroll in Certified Metaverse Professional (CMP) Certification Course Now!
What can Metaverse Developers Do for Your Business?
Before you seek the ideal practices for hiring metaverse developers, you must verify what they can do for your business. What are the responsibilities of metaverse developers? Here are some of the notable services offered by metaverse developers.
Metaverse application development is one of the foremost responsibilities of metaverse developers. The primary requirement in metaverse developer jobs focuses on the creation of metaverse apps with appealing user experiences. The job role of metaverse developers requires them to develop metaverse apps that could cover a broader audience base through different devices for accessing the metaverse.
The lucrative metaverse developer salary estimates also accompany the responsibilities of creating decentralized services. Metaverse developers should create decentralized platforms on the metaverse for different use cases, such as socialization, shopping, trading, and gaming. 
Another important part of the responsibilities of metaverse developers would focus on the development of metaverse games. The gaming industry is one of the active participants in metaverse innovation. Therefore, experienced metaverse developers and engineers should address the responsibilities of introducing new user experiences in metaverse games. At the same time, a metaverse developer must also pay attention to improvements in user engagement.   
Metaverse developers also help in the creation of NFTs for metaverse platforms, which could offer better control for users over their digital assets and digital identity. 
Qualified metaverse developers should also work on improving the integration of third-party services and data with existing metaverse platforms. 
The metaverse developer salary estimate would also depend on the skills of developers for creating marketplaces. Metaverse developers have to create marketplaces for metaverse platforms featuring parallel processing with the virtual environments and associated payment systems. 
Experienced metaverse developers should also have the capability to use their knowledge to pitch products to target audiences.
The responsibilities of metaverse developers also include engagement of the target audience through social media metaverse platforms. Metaverse developers can integrate social experiences in the metaverse with the facility for users to interact in real life. 
If you plan to hire the best Meta developer, then you must choose candidates capable of connecting metaverse technology and commerce. How can you ensure that a specific candidate can address these responsibilities? The answer would point you toward the important skills required in metaverse developers. 
Want to get an in-depth understanding of metaverse concepts? Become a member and get free access to Metaverse Fundamentals Course Now!
Important Skills for a Metaverse Developer
The responses to "What are the skills of a metaverse developer?" could help you create better job listings. It is important to note that metaverse developers with multi-faceted technical and industry knowledge of the metaverse can help in achieving desired results of metaverse adoption. Here is an outline of the important skills you must look for in metaverse developers.
Please include attribution to 101blockchains.com with this graphic.   

Companies seeking the best ways to hire the best Meta developer would obviously need a developer who knows about Meta and its different products. One of the important highlights of the Meta skills of a developer is their knowledge of Meta Quest, previously known as Oculus. 
The next most popular tool in the skill requirements for metaverse developer jobs would focus on Unity. It is one of the popular tools in game creation and allows flexibility for using 2D as well as 3D platforms. The skills of a developer in Unity help them in creating immersive experiences in metaverse platforms. 
Unreal Engine is one of the most powerful tools used in game development. Interestingly, candidates could fetch better metaverse developer salary estimates with skills in using Unreal for creating 3D projects. The Unreal Engine provides free resources and tools for creating high-quality graphics. Metaverse developers must have expertise in customizing each project according to their needs alongside leveraging the free source code.
Start learning the fundamentals of the metaverse with World's first Metaverse Skill Path with quality resources tailored by industry experts Now!
The answers to "What are the skills of a metaverse developer?" would also point to programming expertise. You can find the two most important programming languages required for metaverse development in C++ and C#. The two programming languages are crucial requirements for developing graphics by using Unreal Engine and Unity. 
C# has been the preferred programming language on Unity for around 20 years, while C++ is the choice of programming language for Unreal. Candidates with fluency in both programming languages can secure an exceptional advantage over competitors for metaverse development jobs. 
The skill set of metaverse developers also includes Roblox, the most practical example of a metaverse in action. Roblox is a virtual environment that you can use for playing games, and experience in using Roblox is imperative for metaverse developers. Candidates preparing for metaverse developer jobs must have skills in different tools for working with Roblox. For example, metaverse developers should learn the use of the Lua programming language of Roblox and other tools such as Blender and Roblox API.
The most important addition to the requirements to hire metaverse developers focuses on Ethereum. Popular metaverse platforms such as 3D metaverse and Decentraland use Ethereum as the foundation. Interestingly, Ethereum is the top choice for the creation of metaverse apps, thereby calling for metaverse developers to improve their fluency in Ethereum. 
The notable skill required for using Ethereum in metaverse development is the Solidity programming language. Metaverse developers must have the capabilities for using Solidity to create smart contracts for NFTs and other decentralized functionalities in metaverse platforms.
Apart from the prominent additions in job listings for hiring a metaverse developer, you must take note of the other crucial skills required for metaverse development. The additional skills required from metaverse developers include proficiency in AR/VR technologies alongside knowledge of machine learning and AI. Most important of all, candidates for metaverse development jobs must have in-depth fluency in blockchain technology, cryptocurrencies, and NFTs. 
Build your identity as a certified blockchain expert with 101 Blockchains' Blockchain Certifications designed to provide enhanced career prospects.
Places to Seek Professional Metaverse Developers
The outline of job responsibilities and skills required for metaverse developer jobs can help in creating a good job listing. Where will you post the job listing to find the most eligible candidates? You can find the answer by looking out for specific platforms for identifying the best metaverse developers and engineers with the required skills and expertise. Here are some of the notable places for finding developers to work on your next metaverse project.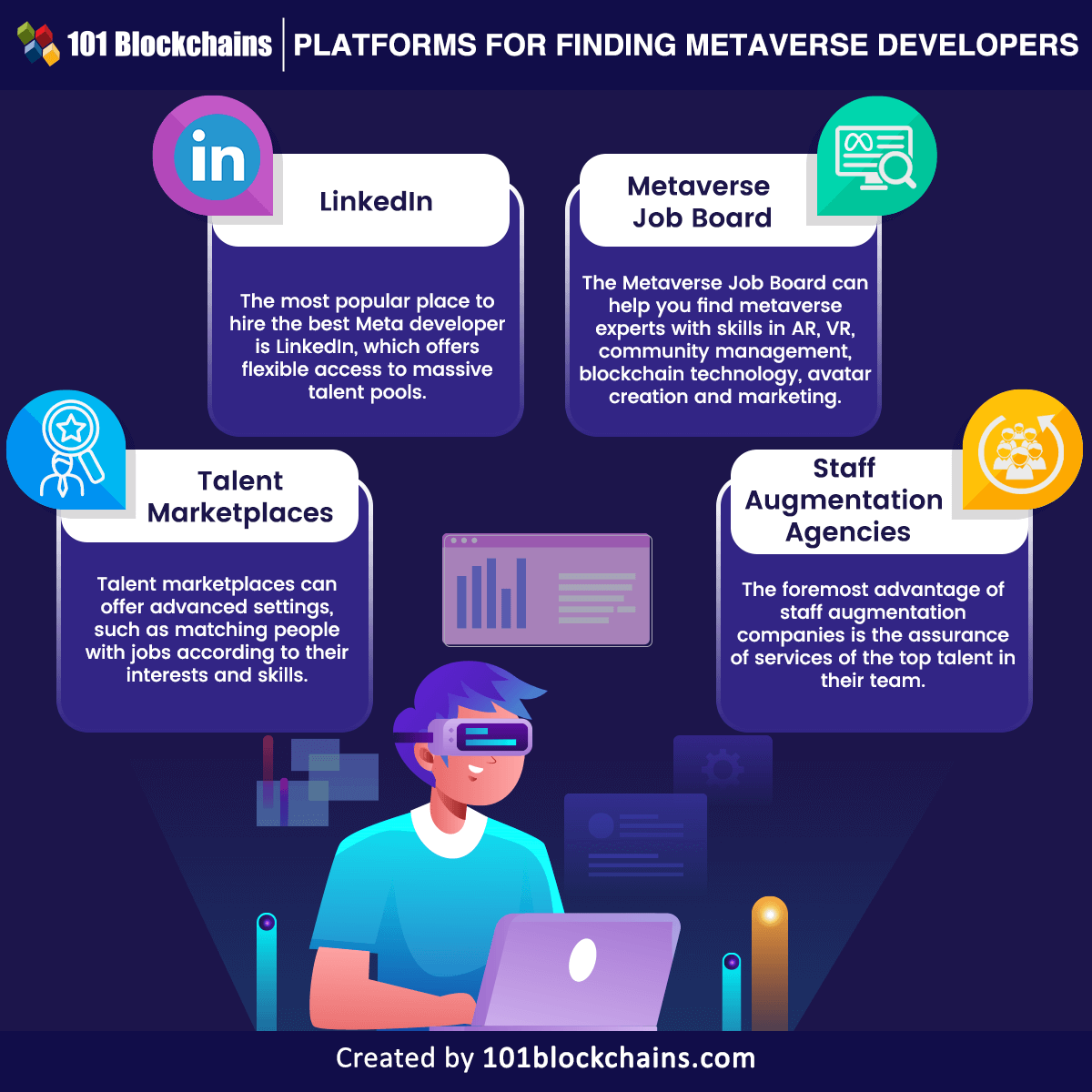 The most popular place to hire the best Meta developer is LinkedIn, which offers flexible access to massive talent pools. However, you must be careful in the verification of the profiles of metaverse developers on LinkedIn. Search for the desired metaverse job role and choose the location to narrow down your choices and find suitable prospects. 
The chat option also allows companies to communicate directly with candidates and learn about their expertise. On the other hand, you can put up a job listing with a metaverse developer salary estimate and wait for applications. Businesses seeking metaverse developers could also choose the services of professional recruiters for hiring proficient metaverse developers. 
Learn about the fundamentals, key elements and business opportunities of the metaverse technology through this Metaverse E-book: An Introduction To Metaverse
The next commonplace to seek the best metaverse developers would be the Metaverse Job Board. The Metaverse Job Board can help you find metaverse experts with skills in diverse areas. You can rely on the platform for hiring developers with expertise in AR, VR, community management, blockchain technology, avatar creation, and marketing. 
The process to hire metaverse developers through Metaverse Job Board is similar to that on LinkedIn. Employers have to create and post a job listing and wait for applicants. Subsequently, you can shortlist candidates for the interview process and choose the best professionals. 
The importance of talent marketplaces in empowering the workforces of modern organizations is undeniable. Talent marketplaces can offer advanced settings, such as matching people with jobs according to their interests and skills. Furthermore, the talent marketplaces also ensure the verification of all specialists registered on the platform. As a result, you wouldn't have to be concerned about the qualifications of developers. 
Staff Augmentation Agencies
Staff augmentation is one of the most reliable approaches for recruiting a metaverse developer for your new project. Rather than creating an in-house team from scratch, you can rely on agencies that provide the services of experienced metaverse developers. The staff augmentation agencies evaluate the workforce requirements of employers and their business goals for identifying the number of professionals required for the job. The foremost advantage of staff augmentation companies is the assurance of services of the top talent in their team. 
Important Factors for Choosing Metaverse Experts
Technical skills are a must-have for listing metaverse developer jobs and finding the right candidate. However, you must also understand the necessity of other important skills which make metaverse developers a valuable asset for companies. Here are the important factors you must verify before choosing metaverse experts. 
The most crucial trait for candidates aspiring for metaverse development roles is communication. Without the proper communication skills, metaverse developers and engineers cannot communicate their goals, issues, and progress. 

The process to

hire the best Meta developer

must also focus on the problem-solving skills of the developer. It is important to check their resilience to pressure and problems during the course of metaverse projects. 

Most important of all, metaverse developers must stay updated with the latest trends in the industry. The rapid evolution and changes in the metaverse ecosystem imply the necessity of knowing how to adapt to new trends. 

Finally, the candidates for

metaverse developer jobs

must have the capability to maintain secrecy regarding the project. Apart from fluency in best practices for data security, metaverse developers must be open to signing NDAs to avoid disclosures. 
Want to learn Metaverse concepts quickly? Check out Now Metaverse Flashcards and Metaverse FAQs
Best Practices for Hiring Competent Metaverse Developers
The metaverse has created a revolution in the technology landscape alongside fuelling changes in the tech labor market. Just like you, competitors are looking for proficient metaverse developers to take on their projects. You can hire metaverse developers capable of addressing your business goals by following some best practices. 
First of all, you must remember that technical skills alone would not qualify a candidate for serving your business objectives. Therefore, you need to look for candidates who share your philosophy.              
The next best practice for hiring metaverse developers is the preparation of comprehensive metaverse interview questions. You should aim at testing the knowledge of candidates in concepts of the metaverse and its technical foundations. 
You can hire the best Meta developer only by testing their capabilities in coding. The lack of practical experience in metaverse developers can turn into a liability for employers. Therefore, coding competitions for specific projects could help in choosing reliable developers.
Want to know whether metaverse is really the next big thing and whether it can gain momentum in future?  Read the detailed guide Now on Is Metaverse The Next Big Thing
Bottom Line
The guide for hiring a metaverse developer showcases the important requirements for creating a good job listing. You need to hire professionals with a broad range of skills, including coding, blockchain technology, NFTs, AI, ML, AR/VR, and cryptocurrencies. Furthermore, metaverse developers must have communication and problem-solving skills alongside capabilities for working with cross-disciplinary teams. 
The growing rate of adoption of metaverse technology can drive the demand for metaverse projects. You can stay ahead of the competition with professional training resources and certifications for your teams. Explore the details of professional metaverse training courses and certifications now. 
*Disclaimer: The article should not be taken as, and is not intended to provide any investment advice. Claims made in this article do not constitute investment advice and should not be taken as such. 101 Blockchains shall not be responsible for any loss sustained by any person who relies on this article. Do your own research!