The metaverse is probably the most anticipated technological revolution, which brings fiction to reality before the world. Facebook is one of the first names among tech giants to have an active interest in the metaverse. The social media network changed its parent company name to Meta and has been pursuing the development of its own metaverse. 
Therefore, many companies are trying to find a
metaverse engineer
to help them with planning for their transition to the metaverse. The following post offers a detailed guide on how to become a metaverse engineer and get high paid jobs.
The metaverse is a virtual world that would open up many opportunities for transforming the branding and marketing strategies of businesses. In the long run, the metaverse could also transform the fundamentals of service delivery and product experience for users. The powerful capabilities of the metaverse have created questions about adopting metaverse technology as a career option. Interestingly, you can identify many career roles within the domain of the metaverse, such as a metaverse architect, metaverse developer, community manager, or project manager. If you want to explore metaverse engineering jobs, you can find the opportunity to work across different roles. Metaverse engineering focuses on a broad set of roles in projects based on the capabilities of metaverse technology.
 What is a Metaverse Engineer?
The first thing you need to learn before looking for jobs in metaverse engineering is the definition of the role of metaverse engineers. Metaverse technology represents the vision of creating a shared virtual space that is interactive, immersive and almost realistic in appearance. The virtual worlds could provide virtual counterparts of services in the real world, such as workspaces and entertainment centers. Aspiring professionals can become metaverse engineer or developers to capitalize on the career benefits of metaverse technology. Metaverse technology can grow into a $13 trillion market by 2030, thereby implying the possibilities for demand for metaverse engineers. 
Metaverse engineers are the professionals responsible for addressing the technical and user experience factors in metaverse projects. The metaverse engineer career path not only focuses on designing the technical foundations of metaverse but also on the essential practices for making the project more user-friendly. At the same time, metaverse engineering also calls for effective implementation of web3 concepts and principles in metaverse projects. The work of metaverse engineers also emphasizes guidance for senior management and decision-makers in making crucial decisions. 
Why Should You Become Metaverse Engineer?
The lucrative prospects associated with metaverse projects are one of the first reasons to pursue a career in metaverse engineering. For example, the average metaverse engineer salary could vary from $97,000 to $250,000 according to skills and experience. The salary estimate is only one of the reasons to look for jobs in metaverse engineering. 
Metaverse leverages the combination of augmented and virtual reality to bring realistic, immersive experiences in virtual worlds. The metaverse technologies such as blockchain, AR, VR and AI could help in improving the online user experience. As the demand for web3 revolution continues increasing, it is important to consider the scope for a rise in the number of metaverse-related jobs.
The global AR and VR market would most likely achieve $31.1 billion in terms of revenue in 2023. Almost 170 million people worldwide use VR technology, with around 70.8 million users expected to be from the US only in 2023. The VR headset market size in 2022 was $8.1 billion. The impressive statistics about the metaverse market provide valid reasons for searching metaverse engineering jobs and best practices for landing desired roles. Most important of all, the importance of metaverse engineering in shaping up metaverse platforms and refining metaverse technology use cases also boosts demand for metaverse engineers.
Build your identity as a certified blockchain expert with 101 Blockchains' Blockchain Certifications designed to provide enhanced career prospects.
Roles and Responsibilities of Metaverse Engineers
The best way to find out how to become a metaverse engineer is through an overview of the roles and responsibilities in metaverse engineering. What does metaverse engineering involve? The primary task of metaverse engineers is the design and development of interactive and immersive experiences or digital assets in virtual worlds. The virtual worlds could include web3 gaming platforms or decentralized virtual worlds with unique virtual experiences. 
A metaverse engineer must also focus on creating engaging experiences for all users of the metaverse platform. The role of metaverse engineers in software development is also evident in the requirement for programming application logic. Metaverse engineers must also create the application logic for smart contracts and other metaverse functionalities. At the same time, metaverse engineers should also pay attention to the debugging and execution of the application logic. 
The responsibilities of metaverse engineers also include gathering information about application specifications. You can find metaverse engineering course materials that describe the importance of defining all the requirements for the development process. Metaverse engineers could also take on the responsibility of introducing engaging visual elements through digital art to create a unique experience. Another important role of metaverse engineers focuses on the development of documentation and support required for users. 
Curious to understand the complete smart contract development lifecycle? Become a member and get free access to the Smart Contracts Development Course Now!
Skills Required for Becoming Metaverse Engineers
Aspiring candidates can find a clear impression of the skills they need to become metaverse engineer with an in-depth understanding of their responsibilities. Traditional developer and software engineering roles have to adapt to the emerging trends in technology with web3 use cases. Metaverse is one of the formidable examples of web3 use cases, thereby implying the need for learning advanced skills in metaverse engineering. Here is an outline of the important skills you need for metaverse engineering.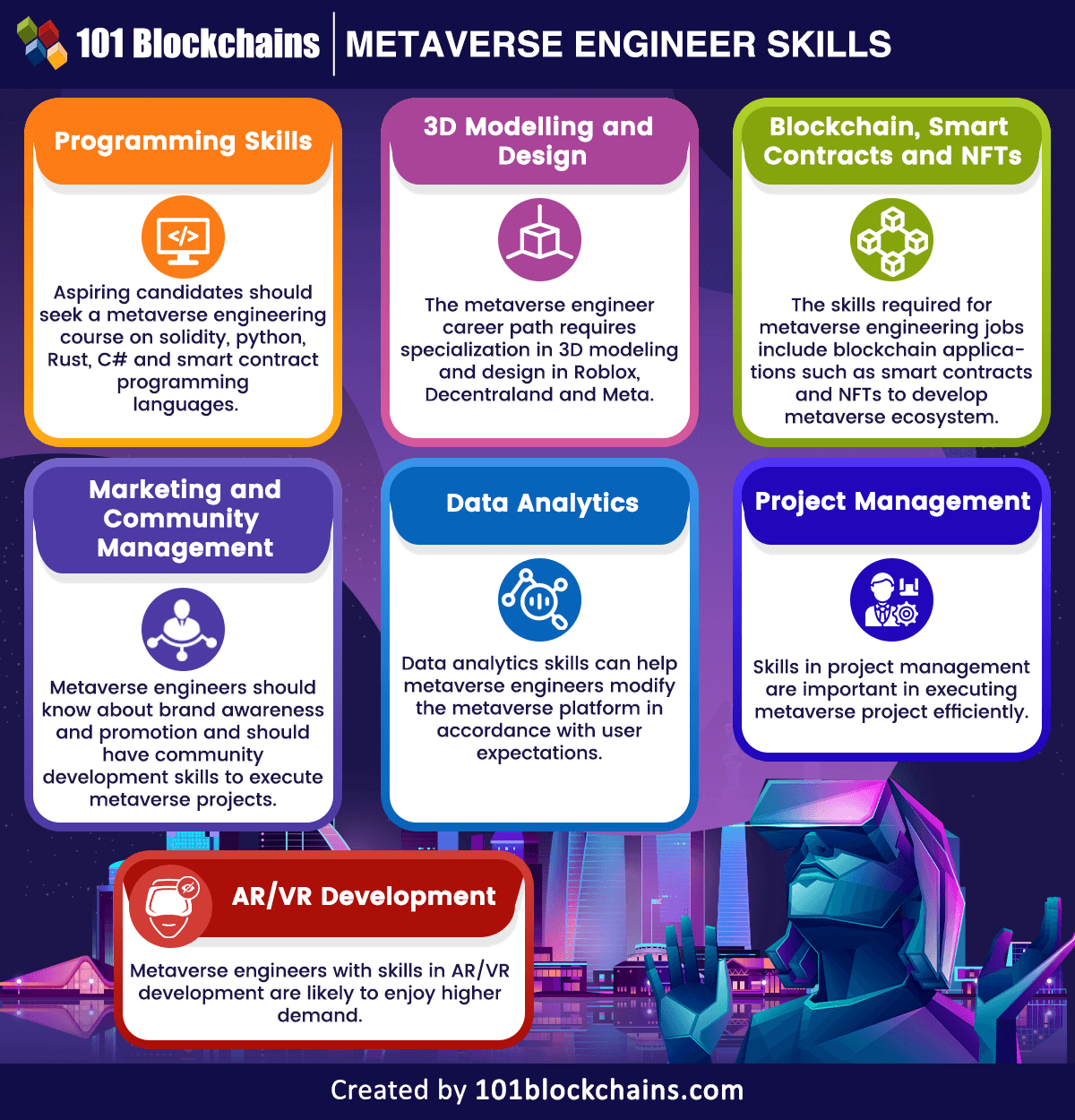 Please include attribution to 101blockchains.com with this graphic.   

The first entry among important skills required for a metaverse engineer points to programming fluency. Metaverse engineers have to create the logic for applications that would run the metaverse applications with seamless functionality. Traditional programming languages such as JavaScript, Python, HTML, CSS and Rust have been effective in different use cases. Web2 development examples such as gaming, web development and data analytics use these programming languages. 
Interestingly, some of these programming languages are also important for metaverse engineering. For example, Python, Rust and C# are useful choices of programming for VR developers. Aspiring candidates should also seek a metaverse engineering course on Solidity programming to specialize in the smart contract programming language. The programming skills of metaverse engineers can help them create the fundamental designs that could expand the metaverse ecosystem. 
Want to get an in-depth understanding of Solidity concepts? Become a member and get free access to Solidity Fundamentals Course Now!
The most noticeable trait of virtual worlds in the metaverse refers to immersive and three-dimensional experiences. You could identify examples of effective use of 3D modeling and design in Roblox, Decentraland and Meta. The metaverse engineer career path requires specialization in practices for conceptualization, prototyping and development of environments, which users could explore alongside avatars and objects.
Virtual reality plays a significant role in metaverse development. It serves as a vital instrument for shaping immersive experiences and unique, engaging interfaces for metaverse platforms. At the same time, AR or augmented reality can support innovative applications for bridging the gap between physical and virtual worlds. AR and VR technologies are essential requirements for making the virtual experiences in the metaverse appear realistic to users. Therefore, metaverse engineers with skills in AR/VR development are likely to enjoy higher demand.
Want to get an in-depth understanding of metaverse concepts? Become a member and get free access to Metaverse Fundamentals Course Now!
Blockchain, Smart Contracts and NFTs
The most important set of skills required for metaverse engineering jobs would draw blockchain technology into the discussion. Metaverse relies on blockchain technology for facilitating decentralized and secure access to digital experiences and servers. At the same time, blockchain applications such as smart contracts and NFTs help in refining the functionalities of metaverse platforms. 
Smart contracts can help in ensuring trusted automation of different traditional business processes and transactions, removing intermediaries from the equation. Non-fungible tokens or NFTs are also an inevitable requirement among skills for metaverse engineers. NFTs would serve as an important highlight for supporting the creator economy in the metaverse ecosystem. 
Another formidable highlight among the skills required for metaverse engineers is data analytics. Most of the guides on how to become a metaverse engineer point out the need for data analytics skills for optimizing metaverse platforms. Metaverse engineers must have quantitative and qualitative data analytics expertise for collecting user behavior data. In addition, metaverse engineers could use the insights from data analytics to define how people use the virtual environments of the metaverse. Data analytics skills can help metaverse engineers modify the metaverse platform in accordance with user expectations. 
Web3 project management is also one of the critical requirements for metaverse engineers. As a metaverse engineer, you would have to work with different teams and deal with different disciplines. Therefore, people with skills in project management are important for holding everything in place and executing every stage of the metaverse project efficiently.
Marketing and Community Management
The responsibilities of metaverse engineers also require skills in marketing and community management. The work of metaverse engineers does not end with the development of a new metaverse platform. Metaverse engineers should also focus on increasing brand awareness and promoting services and digital assets of the platform in unique ways. 
You can choose any metaverse engineering course and discover the importance of community development in the success of metaverse projects. Metaverse engineers must have the skills for moderating conversations within the community and encouraging contributions from members. In addition, metaverse engineers must have expertise in DAOs and best practices for introducing decentralized governance. 
Excited to develop fluent knowledge of the DAO ecosystem? Become a member and Enroll Now in DAO Fundamentals Course!
Best Practices for Becoming Metaverse Engineers
The expectations of a lucrative metaverse engineer salary package could encourage aspiring professionals to pursue jobs in metaverse engineering. You could also understand how metaverse technology is futuristic and can present favorable prospects for developing a long-term career. At the same time, the comprehensive set of responsibilities and skills required in metaverse engineering create doubts regarding the best practices for finding jobs as metaverse engineers.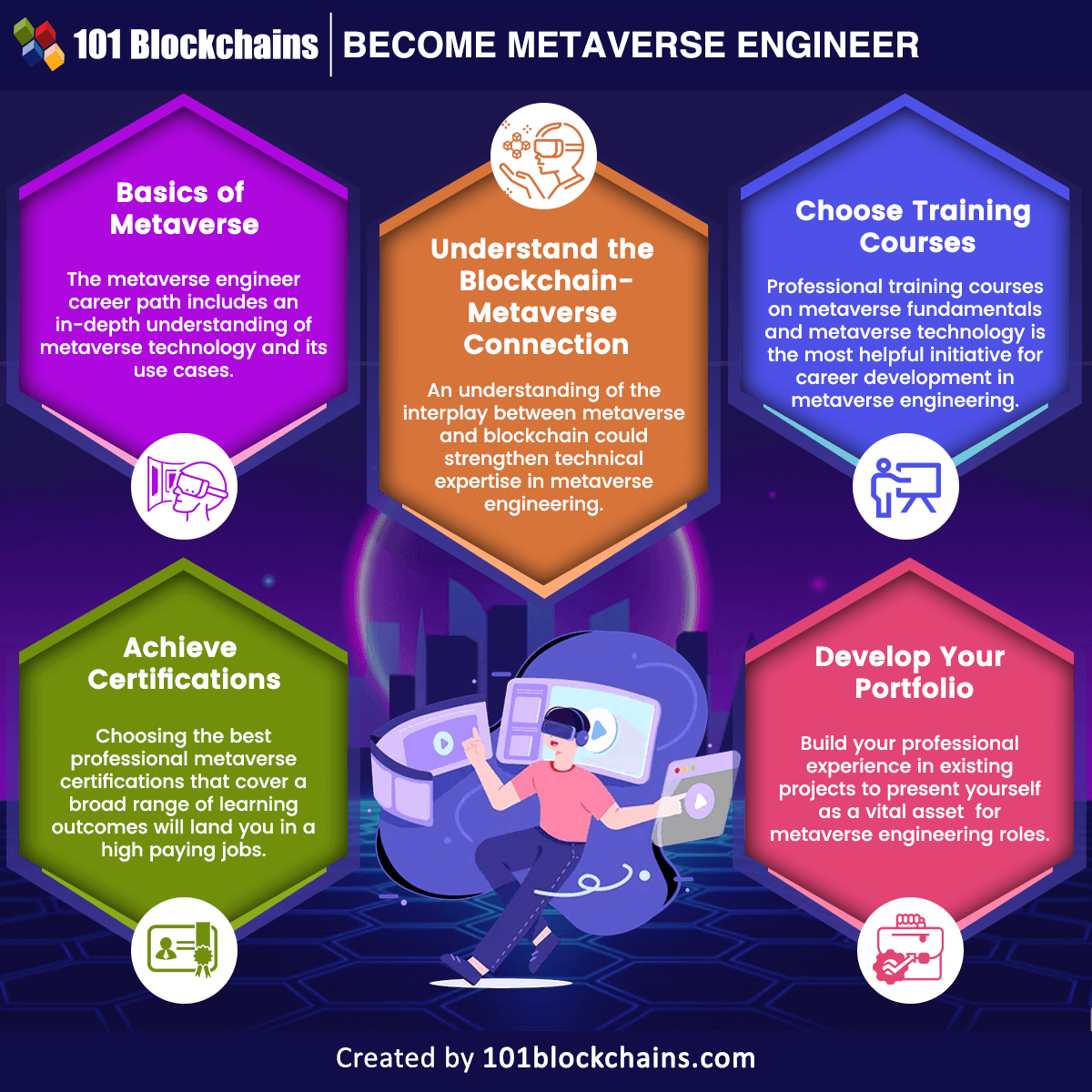 Please include attribution to 101blockchains.com with this graphic.   

Start learning the fundamentals of metaverse technology and why it is relevant to learn about metaverse use cases. At this point in time, you must learn the significance of individual components of the metaverse. Review the different technologies which are vital to the development of metaverse platforms. At the same time, metaverse engineers must also evaluate the implications of using NFTs in the metaverse. 
Understand the Blockchain-Metaverse Connection 
The next crucial milestone in a metaverse engineer career path points to the understanding of how blockchain fits with the metaverse. You should have an in-depth understanding of blockchain concepts that are crucial for metaverse development, including smart contracts. An understanding of the interplay between metaverse and blockchain could strengthen your technical expertise in metaverse engineering. 
The importance of professional training in your journey to become metaverse engineer calls for seeking credible training courses. You need to hone your skills in web and mobile development with the objective of achieving fluency in UI/UX design. On top of it, you need to complete training courses on fundamentals of blockchain technology, web3, NFTs and smart contracts. It is also important to search for comprehensive professional training courses on metaverse fundamentals and metaverse technology. 
The most helpful initiative for career development in metaverse engineering would draw attention toward professional certifications. You can apply for metaverse engineering jobs with confidence when you have a certification for proving your skills. At the same time, it is important to choose metaverse certifications that cover a broad range of learning outcomes. 
Once you have gained knowledge and skills for metaverse engineering, you should start working on projects right away. Build your professional experience in existing projects or create your own metaverse platform with innovative specifications. The best way to land desired roles in metaverse engineering is to present yourself as a vital asset. With proven experience in metaverse projects, you can become a trusted candidate for metaverse engineering roles.
Excited to develop an in-depth understanding of the concept behind the metaverse technology? Enroll Now in Metaverse Technology Course – Intermediate Level
Conclusion 
The detailed guide on how to become a metaverse engineer showcased the important skills required for metaverse engineers. You can notice how appealing salary and professional development opportunities can encourage aspiring professionals to pursue metaverse engineering. Metaverse is a revolutionary shift in the online experiences of users, and careers in metaverse can create opportunities for career development in the future. 
Start developing your knowledge of the metaverse with the metaverse fundamentals course on 101 Blockchains. You can also build your expertise in metaverse technology and certify your skills with an industry-recognized credential. Explore the ideal path for developing your metaverse skills right now.  
*Disclaimer: The article should not be taken as, and is not intended to provide any investment advice. Claims made in this article do not constitute investment advice and should not be taken as such. 101 Blockchains shall not be responsible for any loss sustained by any person who relies on this article. Do your own research!